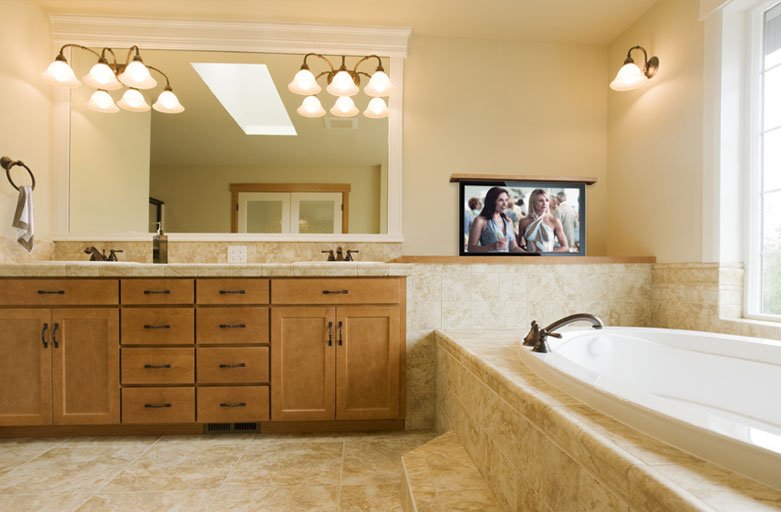 We all know and love the high tech gadgets we can put in our living room, kitchen and bedroom. But what about the bathroom? It's as important as the kitchen when it comes to people loving luxuries, and here are just a few ways you can enhance your master bath for more comfort and better market value.
Check out the advances made by companies like Kohler and Moen when it comes to updating your plumbing. Your simple shower stall could go high tech with a digital pad that would allow you to:
Choose and change water temperature
Turn on your shower and get an alert when it is hot
Select massage or pulsing patterns and spray force
Set a timer for the shower to keep you on your toes in the mornings
Pause the water flow momentarily to limit water consumption while shampooing or shaving
Like a more luxurious soak? The Bathomatic is perfect for non-shower aficionados, letting you customize your bath time with an easy plug raising and lowering option, maintaining a steady temperature over time, and even adding fragrances, bubbles and more as desired.
You can update your toilet with a bidet, a dryer, a music option and more to make your stop at the porcelain throne an enjoyable one. Add radiant heating to the floor and make sure your toes are always warm when you step out of the tub or shower, and you won't be kneeling on cold tile if the shrimp at the Sunday buffet turns out to not be as fresh as hoped for.
Finally, (we know you were waiting for it!) Nexus 21 has the perfect option if you like to laze around in the bath and watch TV at the same time, or snatch a glimpse of the news and morning traffic while shaving for work. Simply install an automated TV lift to turn the foot of your bathtub into a flat screen viewing station!  That way you can catch up on old episodes of West Wing or watch the new hit Almost Human while floating in a froth of freesia scented foam.
Don't forget to seal your remotes in double gallon ziplock baggies so you can float them on the surface of the water. (That's a tried and true trick developed after one too many remotes met an untimely end by drowning in the deep end of a whirlpool tub!)
What extra amenities does your dream bathroom have?