Just a few years ago Serious AV was hired to turn a luxury, New Jersey apartment into a smart home. When President, Casey Johnston, walked into the master bedroom he was met with a wall of windows looking out on the New York City skyline. "The whole point of that apartment, is to have that gorgeous view," Johnston said. With one decision, Johnston was able to turn that project into recurring revenue for the company and just completed his second install in the home — and first install of a Nexus 21 flip down TV lift.
Pre-Wiring for a Flip Down TV
"We had always talked about putting some kind of lift in," Johnston said, as he described the stunning master suite with no room to put a TV. While Johnston had recommended a flip down TV lift during the initial project — budget would not allow for the install. Johnston; however, said they chose to pre-wire the apartment "knowing we would go back and put in a TV" Flash forward to today, and all that was needed to install the CL-65 was a bit of ceiling construction before popping the mechanism into place. "There was no assembly with Nexus 21," Johnston said, "It was just all about prepping the area." Within minutes, the homeowner was able to flip a 65" TV down from the ceiling and conceal it away when not in use. "Everyone was blown away by how reliable and on-point everything is," Johnston said.
How Design Creates Profit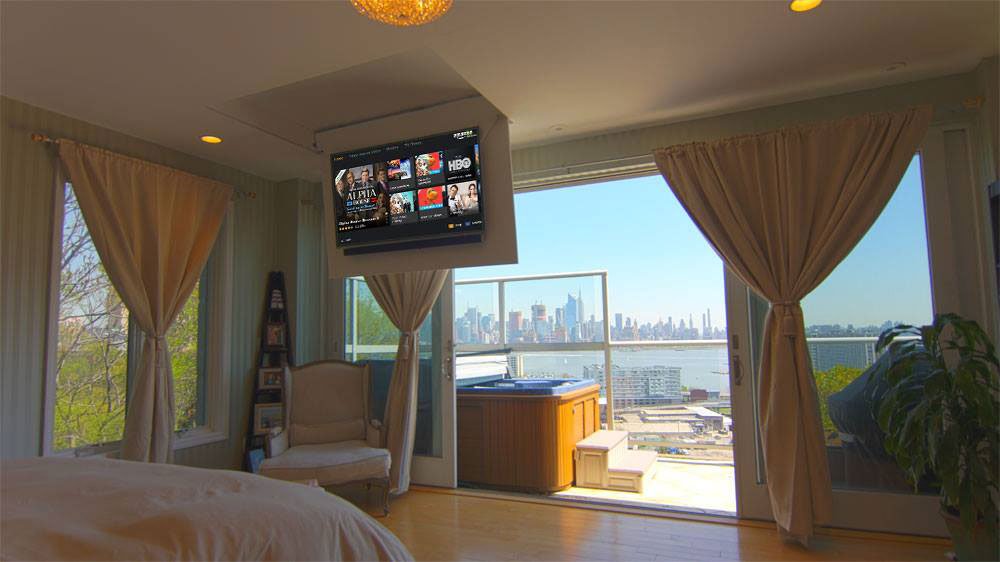 Design is a fundamental aspect of Serious AV. "Every time we walk into a space, it's as if we are starting from scratch," Johnston said. Serious AV is a master of finding luxuries to enhance their clients' homes, while driving additional revenue opportunities. This element of design is where Johnston says they "shine" and what keeps their business growing.
With smart home tech on the rise, companies like Serious AV are getting more jobs. The homeowners; however, usually have an idea of what they want, but rely on the Integrator to create a beautiful space. "The design is usually the most important thing to end users," Johnston said. He added that most of their clients "are looking for luxury and don't care about the little details." This means having easy-to-use products, that do not compromise the aesthetics, is essential."Not only do we want everything to function," Johnston said, "but we also want it to be aesthetically appealing when it's not in use."
Johnston was able to easily integrate Model CL-65 into the control system and use Amazon's Alexa for voice control. The hands-free technology was the final touch to the whole home system.
Why Nexus 21
Serious AV has installed TV lifts for years but chose to switch to a Nexus 21 flip down TV lift for this project after meeting the team at CEDIA 2016. "We said, 'You know what, let's give Nexus 21 a chance!' We couldn't have been happier with what we got." Johnston said the CL-65 was the first product he's seen that truly concealed the TV and had near silent operation. "With Nexus 21 you know what you're getting." Johnston said, "The price is right and the support is there."
Sign up for our monthly newsletter to see more ways to advance your business: