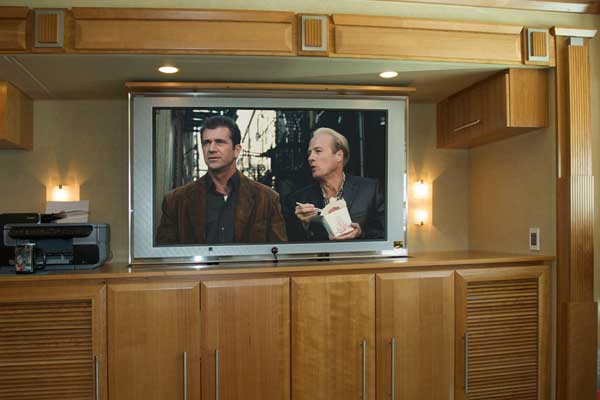 Last week we looked at the most traditional TV installation in RVs: the windshield cabinet. This week, we are going to explore other places to enjoy a TV in your RV!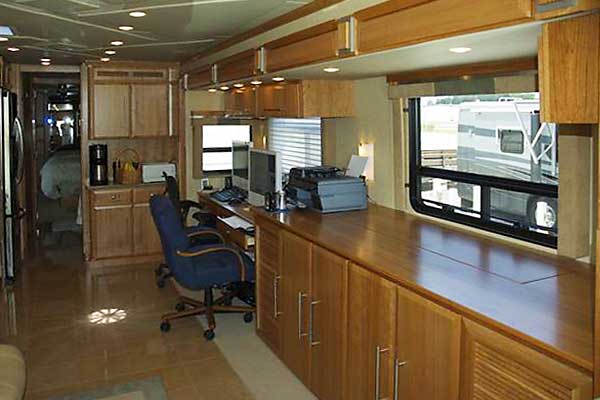 Part Two:
Unless you particularly love having your TV up front, you might be happier with your entertainment center moved towards the rear of the coach.
Alternate Screen Placement
Many RV users would benefit from the TV being placed further back in the vehicle. If you originally had a windshield cabinet mount, you can remove the old cabinet completely, or clear out the old TV and use the space for storage.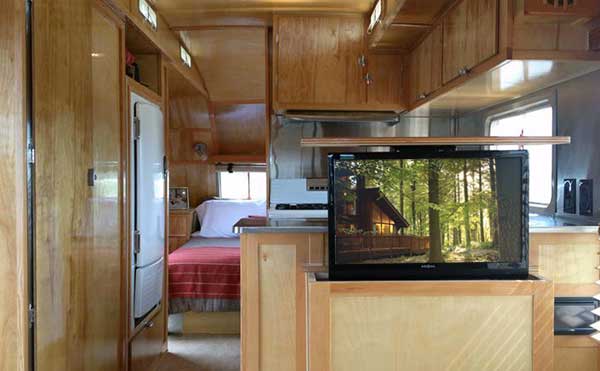 Some of the other places a TV lift can be installed for ease of use and comfortable viewing include:
Behind a sofa on either the driver or passenger side. Just shift the sofa away from the wall and construct a shallow cabinet behind it. The TV will be installed on an electric lift that rises through a slot in the cabinet top. You can outfit the cabinet to match the rest of the trim in the cabin.
A dining buffet is another place a TV lift could conceivably be installed. Pull it out from the wall, and extend the depth of the buffet. Match the surface of the existing buffet, and build a cabinet that is level with the tabletop. The TV will simply rise up from the surface for viewing, then slide away to provide more space for eating, studying or working.
If you have a blank wall, consider using it as a space to put a TV lift. You can build a small cabinet near the ceiling, and have the TV slide down into view. The wall above the dinette is often false, built out and paneled over for aesthetic appeal. It's easy to put a lift in place without sacrificing more space!
You can add viewing angles with a TV lift that swivels. If you allow some clearance from the closest wall, your TV can be pivoted to allow viewing from any spot in your RV. Just slide it up or down into view, then turn it toward the desired seating area. You can even plan for unobstructed viewing from the bed for cozy evening snuggling. Don't forget to pop the corn before the next episode of Dr. Who comes on!
All of these ideas can be implemented in any RV, no matter what age it is or whether or not it previously boasted a TV. Talk to a Nexus 21 technician today, and find out how to put a concealed TV in your own RV!