Your living room and kitchen don't have to get all the love when it comes to installing the latest gadgets. Here are 5 ways you can go high tech in your master bathroom too.
#1 Digital Shower Interface
Companies like Kohler and Moen can turn your shower into a spa with a digital interface that lets you:
Select and adjust water temperature with the touch of a button
Run a warm-up program that notifies you when the water has reached your desired temperature
Adjust water flow rate and select massaging or pulsing spray patterns
Pause the water for up to 2 minutes
Set a specific duration for your shower for mornings when you are in a hurry
If you're really into visuals and "chromatherapy", you could even spring for an Ondine electronic light shower.
#2 Automated Bath
Not a shower person? You might prefer a product like the "Bathomatic" that lowers the plug, fills the tub, keeps water at the perfect temperature and depth for as long as you like, and even adds fragrances or bubbles to suit your preference.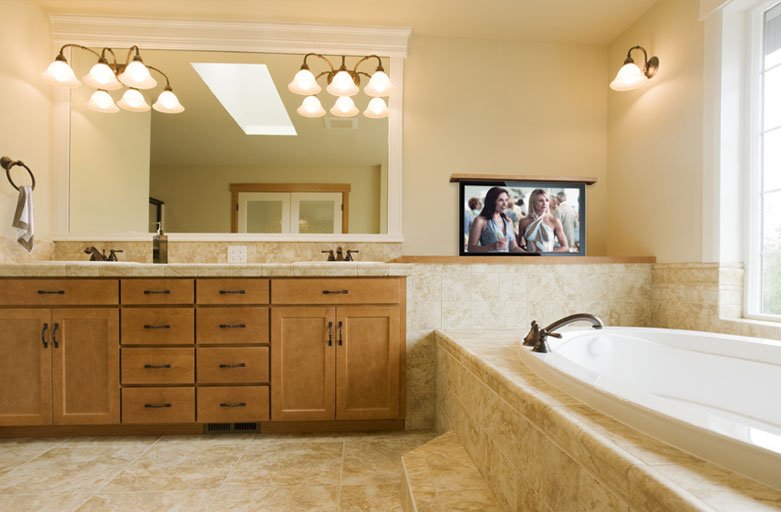 #3 Electronic Toilet
Travelers to Japan often come home with tales and photos of the electronic toilet. This state of the art commode features all kinds of buttons. There's a bidet feature with additional controls that let you direct the water flow. There's also a dryer, a music player, and even a button that makes a flushing sound (yes, it just makes the sound – it isn't actually the flushing button).
#4 Radiant Floor
How would you like to step out of the bathtub and onto an electrified mat? Well, that's not as dangerous as it sounds – as long as the mat is installed underneath the tile. Radiant floor heating is all the rage in high end bathrooms. Under floor mats like TempZone turn chilly stone or tile flooring into a surface that keeps your toes toasty.
#5 Entertainment Center
OK, so you probably won't be playing Wii in the tub (unless they have a virtual swimming game). But you might like to catch the morning news while you're shaving and brushing your teeth. Or, you might like to soak in the tub at the end of the day and catch an episode of Grey's Anatomy. You'd be surprised how many nooks and crannies in a master bath can hold a TV if you use one of our automated TV lifts. The foot of the bathtub is a favorite location for many of our customers to install a flat screen.