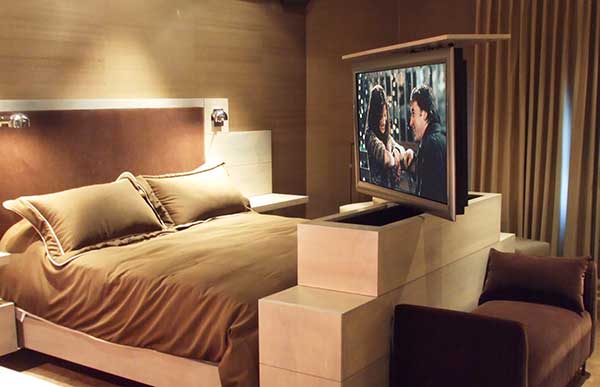 Looking for a way to spice up the bedroom? No, we aren't talking about adding handcuffs and blindfolds, "50 Shades" style. We are just talking about adding a TV lift! Many bedrooms make it hard to cram in a bedroom suite and an entertainment center – and you usually end up having to balance your television on a dresser or bureau top. What if there was a better way?
Fortunately, in an age of TV lifts, a multitude of possibilities abound. You can install a TV lift in several places: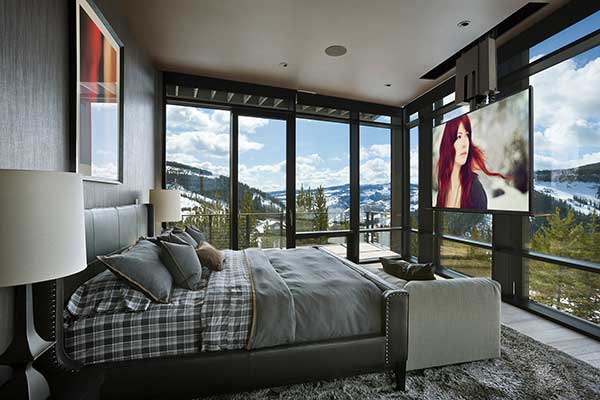 In the ceiling. With a swivel lift, you can aim the drop-down TV at the bed, a chaise lounge, or your exercise bike in the corner!
In the floor. This option is excellent for people who don't want their TV out at all times, but don't have an attic for a ceiling install. Just slide the throw rug out of the way, press a button and your TV will rise to the occasion.
In the footboard. This option is becoming one of the most popular, as it puts the TV at the ideal height and distance for viewing from under the covers. Just tune it to the latest episode of Castle, grab that bag of Oreos, and prepare for an evening full of murder and mystery.
Call Nexus 21 and talk to us about how to upgrade your boudoir with a TV lift. It might not spice up your love life, but it certainly makes the bedroom more interesting!