If you know about boats, you know that the name Chris-Craft is synonymous with the best. The iconic boat manufacturer is well known and respected for their handmade wooden cruisers, like this one: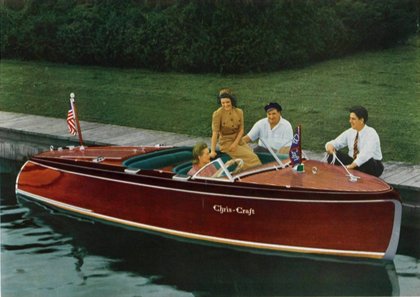 In the late 50s Chris Craft began transitioning to fiberglass hulls in an effort to make safer, larger, sea worthy vessels. Enter the Commander series, the ultimate in cruising luxury with hulls designed for heavy seas and plenty of room for long ocean voyages.
Meet Ben and Nick, the co-owners of "Dig Deep", a 1967 47' Chris-Craft Commander docked in Chicago, IL. Ben and Nick have been friends since childhood, and together created countless memories growing up around boats; something they wanted their children to experience as well. As the two friends individual families' grew to 7 children they decided it was time to start their search for the perfect boat.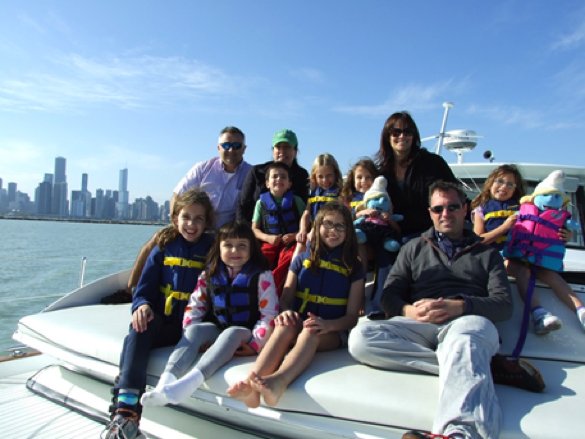 Ben and Nick began their search with an open mind as to what type of boat they might want but their non-negotiables were safety and room to entertain. They found "Dig Deep" (boats are not cheap) in Sarnia, Ontario. There had been a fire in the cabin but the rest of the boat was in great condition. Ben and Nick planned to do a complete renovation so they were not concerned with the current state of the interior. It was exactly what they were looking for.
After getting the boat back to Chicago, Ben and Nick hired Anthony Michael Interior Design to begin the restoration / remodel and make their vision come to life. The result is nothing short of spectacular.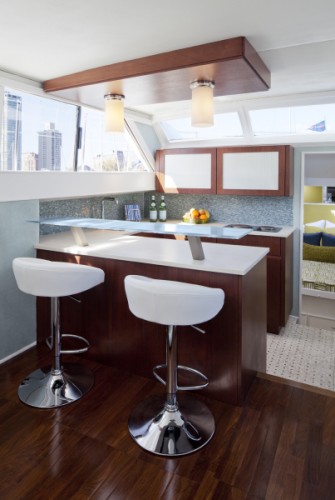 Crisp, white solid surface counter tops, teak cabinetry, and white resin panels were used to modernize and lighten up the kitchen. A raised counter, crafted from acrylic, patterned with a wave is designed for easy serving. The floor is chipped limestone with heavy grit for a safe, nonslip surface. All fabrics are worry free and everything turns into a flotation device.
One of the key elements of the Commander's design lies in the open feel of the living space. This is accomplished with 270 degrees of large windows. The owners did not want to jeopardize any of these windows for a television but knew that with 7 children and all the time that they spend entertaining on the boat, having a TV was a must. A TV lift offered the perfect solution.  Dig Deep is equipped with a Nexus L-27 TV Lift that hides a 42" LED television.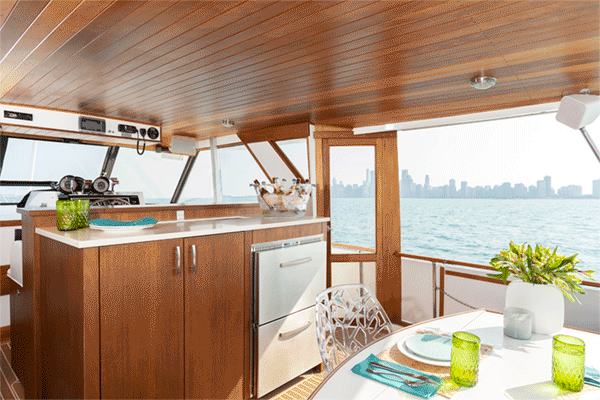 The designers replaced what was originally a back-to-back bench seat just behind the helm (where the captain steers the ship) with a single bench and wet bar that houses the TV lift, a trough sink that holds ice and beverages, as well as a double-drawer refrigerator.
We love it!
Photos by Jacob Hand Photography