MODEL CL-65+
Ceiling Flip-Down TV Lift – For Up To 65″ TV
CL-65+ replaces CL-65. Take note of dimensional information below.
Model CL-65+ is the fastest, quietest, most reliable hinged flip-down solution on the market. Reveal up to a 65″ TV from the ceiling with this versatile product that only requires 7-5/8″ of attic space to install.
Popular uses: Conceal and reveal a TV in bedrooms and living rooms, as well as on patios.
Technical Specifications
100 lbs weight capacity
Tilts 95 degrees downward
Fully extends in 16 seconds
No exposed gears, tracks or scissors
Choice of RF remote, Control System Integration Kit (includes IR remote and contact closure interface), or IP control device
Collision-detection safety software
Power available in the following formats:
**Lift must be mounted on a level ceiling. It is not compatible with angled or pitched ceilings.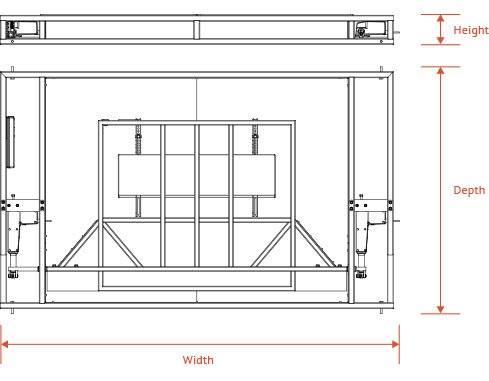 Height: 7.625″ Width: 80.75″ Depth: 48.6″
Accessories
Enhance your Nexus 21 system with accessories designed for simple installation and flawless performance. To request pricing or place an order, call us at
1-877-394-1744.

Soundbar Mount
Allows the soundbar to raise and lower with the TV.
International Power Packages
Controllers and power cords are available for various countries.
Diagrams
Pricing
Pricing is available by request. We work on various types of projects, from smart homes to hospitality and showroom installs. Contact us for a quote tailored to your project.
See What People Are Saying About Nexus 21