Subcompact TV Lift – For Up To 32″ TV
Model L-23
Compact and quiet, Model L-23 is the perfect choice to conceal small screens and monitors. With slim dimensions and easy adjustability, this lift is used in homes, classrooms and luxury vehicles around the world. It includes a wireless remote, wired backup controls and optional smart home integration kit providing limitless flexibility for installation and control.
Slim Design
Universal Mounting Patterns
Near Silent Operation
Get Information and Pricing
or CONTACT US
TECHNICAL SPECIFICATIONS
130 lbs. total lift capacity
Travels 23"
No exposed tracks, gears or scissors
Accommodates standard VESA mounts: 75mm x 75mm, 100mm x 100mm, 200mm x 100mm, 200mm x 200mm
Optional TV mount sizes are VESA standard 300mm x 300mm or 400mm x 200mm
UL recognized
Draws 3.5 Amps @ 110V and 1.75 Amps @ 220V at max thrust
Speed 1.7" per sec. (only 13 sec. to fully raise)
Quiet – runs at just 45 dB
Chain-driven mechanism
Steel construction
Your choice of RF remote or Control System Integration Kit (CSI Kit includes IR remote and contact closure interface)
Exclusive Nexus 21 safety features included
"Soft Start" and "Soft Stop" for smooth ride
Power is Available in These Formats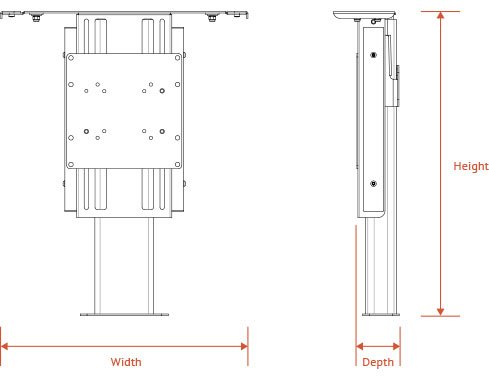 Height:
22.5"
Width:
18.3"
Depth:
3.1" from back wall to rear of TV
Data Sheet Available by Request
Call our Help Desk at
1-800-293-5067
TV LIFT ACCESSORIES
Enhance your TV lift with these accessories, all precision-engineered for simple installation and flawless performance.
For prices or to order, our friendly staff will be happy to help you by phone.
Call us
toll free at 1-800-293-5067.
Stealth Control Module
Makes it possible to raise and lower the lift using your existing TV remote control.
Learn More >
Guides for Hinged Lids
Precision-designed guide brackets allowing the lift mechanism to open and close a hinged lid.
Learn More >
International Power Packages
Appropriate controllers and power cords for your country are available.
Learn More >
DIAGRAMS AND SIZING INFORMATION
Shows the lift with a "floating lid". This means the lid (or cover piece) sits on top of the lift system, just above the TV, and the lid will raise up and down with the TV. All hardware and instructions to create the floating lid are included.
Shows the lift installed with a lid that is mounted on a hinge. The optional hinge guides will push the hinged lid open as the lift raises the TV up. When the TV goes back down, the guides will set the lid gently back down in the closed position. (Note: the optional guides and all hardware to install the lift are included, but the cabinet lid and the actual hinges are not included)
2D/3D CAD Drawings Are Available Upon Request
L-23 Maximum TV Size
Lift Extends 23" Upwards
TV Maximum Screen Size: 32"
TV Maximum Height: 22"
Maximum Weight: 130 lbs
PRICING INFORMATION
Prices are available by request.
We have several price structures because we work with buyers in varying situations. Please call us to get immediate information about prices.
Are Nexus 21 TV Lifts Very Expensive? They are less expensive than most others and are the least expensive lift systems that are made in the USA. There are cheap lift products on the market but they are all made or assembled in China and have much shorter warranties. Always ask where it's made before you buy.
Get Information and Pricing
Call 1-800-293-5067
or CONTACT US
CLIENTS INCLUDE