MODEL L-85
Pop-Up TV Lift – For Up To 86″ TV
Model L-85 combines multiple telescoping lift columns into one seamless mechanism, providing unrivaled speed and extended travel. It accommodates screens up to 86" and raises in as little as 18 seconds.
Popular uses: In large living-room or outdoor cabinets, or wherever a large screen is needed.
Technical Specifications
175 lbs weight capacity
Travels 52″
Fully extends in 18 – 30 seconds depending on weight load
Quiet operation at just 50 dB
Choice of RF remote, Control System Integration Kit (includes IR remote and contact closure interface), or IP control device
Power available in the following formats: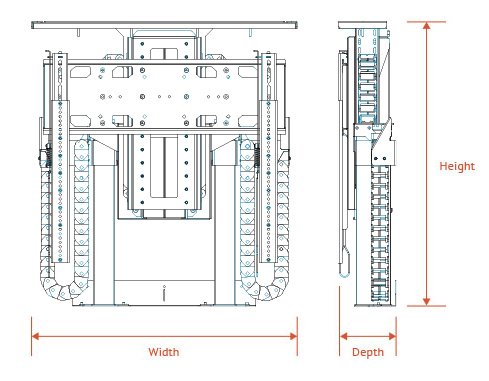 Height: 32″ min / 46.5″ max
Width: 27.5″
Depth: 6.625″ from back wall to rear of TV
Spec & data sheet available upon request.
Accessories
Enhance your Nexus 21 system with accessories designed for simple installation and flawless performance. To request pricing or place an order, call us at
1-877-394-1744.

Soundbar Mount
Allows the soundbar to raise and lower with the TV.
International Power Packages
Controllers and power cords are available for various countries.

Guides for Hinged Lids
Your lift can seamlessly open and close a hinged lid with guide brackets.
Diagrams
Shows the lift with a "floating lid". This means the lid (or cover piece) sits on top of the lift system, just above the TV, and the lid will raise up and down with the TV. All hardware and instructions to create the floating lid are included.
Use this convenient mount to place your soundbar just below the TV and it will raise and lower with the lift.
2D/3D CAD drawings are available upon request.
Shows the lift installed with a lid that is mounted on a hinge. The optional hinge guides will push the hinged lid open as the lift raises the TV up. When the TV goes back down, the guides will set the lid gently back down in the closed position. (Note: the optional guides and all hardware to install the lift are included, but the cabinet lid and the actual hinges are not included).
Pricing
Pricing is available by request. We work on various types of projects, from smart homes to hospitality and showroom installs. Contact us for a quote tailored to your project.
See What People Are Saying About Nexus 21