A TV lift can be used to enhance any spare room in your home – including the basement! If you are finishing out a basement to be used as a functional room, consider adding a TV lift for any of these options: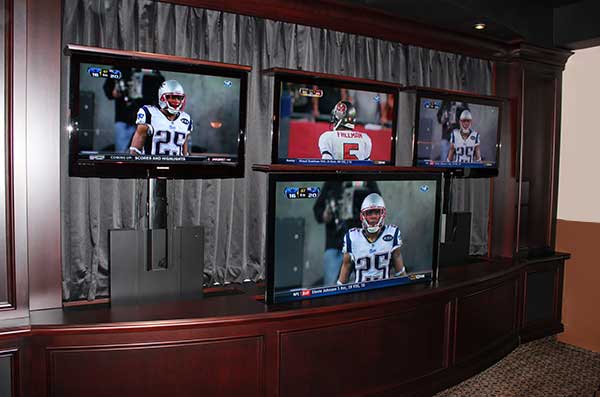 A mother in law suite. Wouldn't you prefer that she catch up on her daytime soaps in the privacy of her own quarters? A TV lift ensures she has the appropriate privacy to swoon over the latest TV hunk, and her only problem will be keeping the grandkids out of her apartment!
The man-cave. Your dude deserves a place to hang out with the guys. A TV lift downstairs with a 60 inch screen in place will give them room to cheer on their favorite team – and keep them from littering your living room with beer bottles!
The playroom. You've said you'll go nuts if you have to listen to SpongeBob one more time. Now your children can enjoy the Pineapple under the Sea without it seeping into your poor abused parental brain.
The teen bedroom. Want to monitor your teenager's screen time? A TV lift with a single remote puts YOU in charge, ensuring they finish their homework before they get to watch Paranormal Activity XXIV.
However you use your upgraded basement, a TV lift can enhance it. Call Nexus 21 today and ask a member of our crew what lift would work best for your needs. It may be the lowest room in the house, but it can have the highest tech!